Pricing transparency gets cloudier as health care costs soar

Kris B. Mamula
Reporter - Pittsburgh Business Times
Josephine Caminos Oria is the CFO of Med Health Services Management, LP, which manages Pittsburgh Cardiovascular Institute and Med Health Services.
Earlier this fall, Highmark Inc. paid Pittsburgh Cardiovascular Institute $581 for doing a nuclear stress test for a patient. The insurer compensated UPMC Monroeville $1,540 for the same procedure — a common measure of how well the heart is working — in another patient.
Now, UPMC Health Plan is cutting PCI from its insurance network, eliminating a low-cost health care provider in a market dominated by higher-cost hospitals and imaging centers.
"It's just highway robbery," said Josephine Oria, CFO of Med Health Services Management LP, which manages PCI and Med Health Services. "As a patient, I'm infuriated. Nobody is looking out for the patient."
The rates health insurers pay doctors for taking care of patients are closely guarded secrets, making comparative shopping for things like blood tests and X-rays virtually impossible. And this is happening when the need for pricing transparency has never been greater.
Employers have seen the cost of providing health care coverage inch up in the low single digits in recent years, while average consumers' out-of-pocket expenses are ballooning, up 52 percent to $5,151 by 2015, according to a new study by global benefits consultant Aon Hewitt.
UPMC declined to comment on the PCI contract termination, only to say the system "continually strives to assure that our members have ongoing access to high-quality, cost-effective care and services." But PCI competes with UPMC East Hospital and the system's imaging center for some services, both of which are located only a few miles away from PCI's clinic. UPMC's decision means its health insurance members will have to pay higher, out-of-network prices to see PCI doctors after Jan. 1.
Tom Fitzpatrick, vice president of provider contracting and relations at Highmark, said its strategy turns on having a wide network of providers; keeping one out of its system is rare.
"That's the big difference in our model," Fitzpatrick said. "We have to have a robust network of physicians and hospitals for our model to thrive."
Charges reflect the total cost of providing care at a particular hospital, UPMC spokeswoman Susan Manko said in a prepared statement. Those costs can include teaching, such as at UPMC Presbyterian-Shadyside hospital, which has higher overhead costs than community hospitals.
"It is critical to understand and note that charges generally do not determine what hospitals are paid," she wrote. "UPMC is deeply engaged in looking for new models of care that ensure that patients continue to receive high-quality, cost-effective and personalized care."
Still, there are those who would very much like to know hospital charges. For example, such information could help small businesses better design health-benefit plans that deliver the highest quality care at the lowest cost, said Steve Shivak, president of Cranberry Township-based SMC Business Councils, a nonprofit educational and advocacy group.
"How crazy is this," Shivak said. "In pretty much any other commodity-driven business, you know going in what the charge is."
Not so in medicine.
Start with some basics. Hospitals have a master list of charges for every procedure, every syringe, every box of cotton balls. Think of it as the book price that patients are billed.
Hospitals and doctors can charge whatever they want, but the insurer tells providers how much it will pay for any given service. Insurers guard the amounts paid to medical providers, making the negotiated rates a well-kept secret.
"We need to get people back in the game," said Ashley Tedor, who is population health management consultant at AIA Benefits Resource Group, a Mechanicsburg-based brokerage that provides medical pricing information to plan groups based on the insurer's payments to doctors and hospitals. "We need to pull back the curtains on pricing."
That starts with forgetting the price of medical care is the same for all hospitals within a given health care system. Not true. Astonishing pricing variability is not unusual, even among the facilities in the same insurance-plan network.
An echocardiogram that costs $225 at PCI in Monroeville is priced at $1,466 at UPMC East Hospital a few miles away and $2,067 at UPMC Presbyterian Hospital in Oakland, a difference exceeding 900 percent, according to a survey by Dr. Bill Hennessey, founder of the Greensburg-based startup Pratter LLC that's posting hospital charges online for easy comparison.
Such pricing variability can be seen even in a simple cholesterol test when a doctor isn't needed to interpret the results. Charges for this blood test ranged between $18 at Med Health Services, an independent clinic, to $266 at Highmark's Forbes Regional Hospital, located within a few miles of each other in Monroeville, Hennessey said.
The disparity in hospital charges takes on new meaning for Highmark members seeing UPMC doctors after Jan. 1. In western Pennsylvania's new world of health care, UPMC will knock 40 percent off its charges for Highmark members, who will then have to pick up the balance of the bill, minus a partial payment from Highmark.
"Charges are going to matter big-time," Hennessey said. "Nobody wants to give you the price tag."
At the same time, health care costs have been rising, both for businesses and consumers. The average cost of providing coverage for an employee reached $10,717 in 2014, inching up 4.4 percent from $10,266 in 2013, according to the Aon Hewitt survey.
But the average employee's share of health care costs, including premium contributions and out-of-pocket expenses, is expected to reach $5,151 in 2015, an increase of about 52 percent from $3,389 in 2010, according to Aon Hewitt. Average employee out-of-pocket costs reached $2,295 in 2014, a 14 percent increase from $2,005 in 2013.
Even Medicare requires a 20 percent copay from members.
Meanwhile, high-deductible health plans are gaining a bigger foothold in the market. These plans require a big out-of-pocket expenditure from members before coverage kicks in. In return, members enjoy lower monthly premiums.
Enrollment in high-deductible plans rose to 23 percent in 2014 from 18 percent last year for all covered employees, according to a study by benefits consultant Mercer LLC. The out-of-pocket maximum limit for high-deductible plans in 2015, for example, ranges up to $12,900 depending on the plan, according to the Internal Revenue Service.
Highmark and other insurers give members price estimators for various procedures as a guide, but they're just that — a black-box amalgam culled from national claims data. There is no Kelley Blue Book for medical services.
And higher prices don't necessarily mean better care, research has shown.
"There's no added value, so why should the patient be paying for it?" PCI's Oria said. "In-network doesn't mean you're getting the best pricing. The quality of care is not better."
A Journal of the American Medical Association study in October was the most recent to note there's little connection between price and quality of medical care. The study also found employees who had access to the actual prices of medical care made smarter decisions while saving money, especially when it came to medical scans such as MRI.
"In virtually all other areas of commerce, consumers know the price and much about the quality of what they intend to buy ahead of the purchase," wrote Uwe Reinhardt, a health economist at Princeton University, in an editorial that accompanied the study. But in medicine, patients go "blindfolded into the bewildering U.S. health care marketplace, without accurate information on the prices likely to be charged."
Medical charges are a big deal for pain management physician Yeshvant Navalgund, an in-network provider for both Highmark and UPMC Health Plan who competes for patients against affiliated hospitals run by both insurers.
"I can't compete with a hospital's billboards and TV ads, but what I can compete on is providing care that's equal or better and at a significantly lower cost," said Navalgund, who operates DNA Advanced Pain Treatment clinics. "We're about a fifth of the price."
Navalgund bills patients $350 for a steroid injection in the lower back, which is administered to relieve pain. The same injection in a hospital can cost $1,500 to $3,000, he said.
"They completely hide these costs," Navalgund said. "The individual has no idea until a month later when they get the bill. It's a very broken system."
Privately held companies have been trying to fix things by providing insured groups the exact amounts insurers pay various providers.
These tools allow patients to be smarter when shopping for medical services by using the amounts providers are reimbursed for care, making the prices more accurate than an insurer's cost estimator, according to Dallas-based Compass Professional Health Services, which has seen 40 percent annual growth since its founding in 2007, Chief Medical Officer Eric Bricker said.
"It's the actual price of something — imagine that," Bricker said.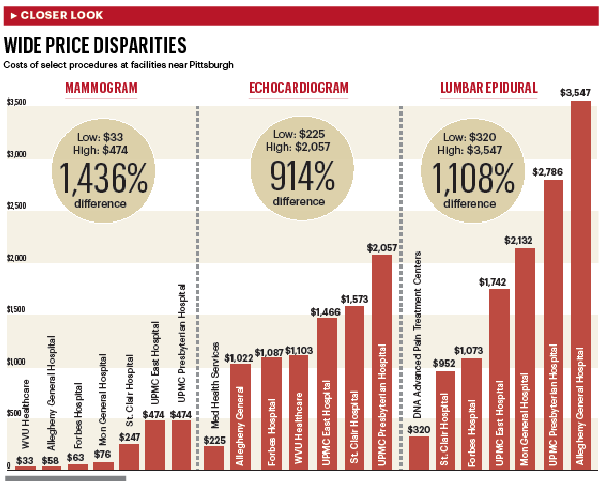 ---
Click here to see previous news articles